Remote Control Toys Longview TX
Local resource for remote control toys in Longview. Includes detailed information on local businesses that provide access to toys like remote control helicopters, remote control flying birds, airplane models, induction flying disks, laser bumper boats, electric drift cars and many more, as well as advice and content on finding the best remote control toys and toy stores.
---
Longview Paintball Sports
(903) 297-8978
2000 N Eastman Rd
Longview, TX
Big Mike's Hobbies Toys
(903) 297-7814
2157 Gilmer Rd
Longview, TX
Toys N Things
(903) 759-3939
918 W Loop 281
Longview, TX
Toys R US
(903) 757-8697
402 W Loop 281
Longview, TX
Dolls Galore More
(903) 797-3157
2084 State Highway 154 E
Gilmer, TX
Hobby Lobby Creative Center
(903) 759-6910
1729 W Loop 281
Longview, TX
Randy's Pouty Dolls Etc
(903) 759-8078
2401 Fir Ct
Longview, TX
Got Kidz
(903) 663-6691
405 W Loop 281
Longview, TX
Kay Bee Toys
(903) 753-2852
Longview Mall
Longview, TX
Oldtown Mall
(903) 843-2359
201 Henderson St
Gilmer, TX
Air Hogs Vectron Wave
Toy Review:
It's a bird! It's a plane! It's a UFO! The new Air Hogs Vectron Wave is a hand-sized UFO unlike any flying machine ever seen before. Equipped with a state-of-the-art level sensor, the Vectron Wave can sense objects below it and will automatically adjust its height accordingly to hover above them. With this built-in automatic level sensor, the Vectron Wave doesn't need a remote control! It's guided by a wave of the hand (or other object). Toss the Vectron Wave back and forth for the most extreme game of catch ever played! The Vectron Wave comes with one LIPO battery, but also requires six AA batteries.

The technology behind the Vectron Wave is really impressive. Kids will love "magically" moving this toy by simply moving their hands. This is particularly great for younger kids who may have difficulty with conventional remote control devices. This takes a bit to learn, but once kids master it, they'll love amazing their friends and family with what they can do.

Manufacturer:
Spin Master

Brand:
Air Hogs

Age Recommendation:
8 and up

MSRP:
$24.99

Intro Year:
2010

...
Click here to read the rest of this article from TimetoPlayMag.com
Hot Wheels Turbo Driver
By Elizabeth Werner
 
 
Hot Wheels Turbo Driver
I grew up in Mansfield Ohio, the home of the Mid-Ohio races so I have a true love of fast cars, which I have imparted in both of my children. My kids and I love going go carting in the summer and my son is a huge NASCAR fan. So, when we all first saw the Hot WheelsTurbo Driver which allows us to go on-line at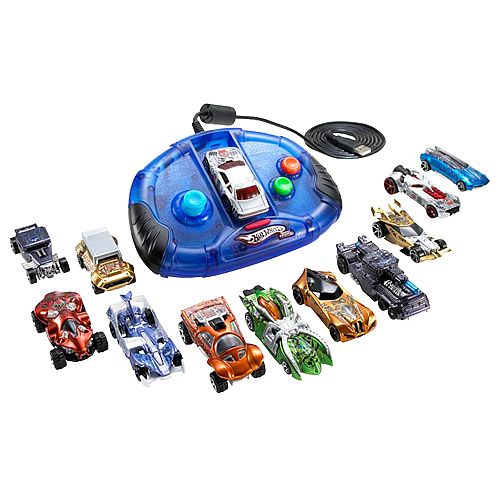 www.hotwheels.com and play the Race the World 3-D racing games on eight sweet racing terrains, we were so excited.My kids and I had fun personalizing our own cars and then picking which driving terrain we wanted.
The unit is a handheld controller that connects via USB port to the computer. (PC only at this point, and it requires a broadband connection.) While it's fairly simple by comparison to a console controller, kids should be familiar with and able to use it easily.
There are eight different cartridges that are actual Hot Wheels Cars (called Car-Tridges). When you plug one into the controller it actually unlocks different areas on the hotwheels.com site. What you see on the screen is a version of the car that you've plugged into the controller. According to Hot Wheels, each car works best in one of the different terrains so there are a lots of reasons to collect and try out the different Car-Tridges.
But there's more play in store.
Get this, the Car-Tridges are also functioning Hot Wheels cars so my son was able to take them down in the basement where all of his regular trac...
Click here to read the rest of this article from TimetoPlayMag.com
Toy Story 3 U-Command Buzz
Toy Story 3 U-Command Buzz
Toy Review:
Once kids have seen Toy Story 3 (hitting theaters on June 18, 2010), they'll be looking for ways to play with their favorite toy characters off-screen. Thanks to Thinkway Toys, there's at least one Toy Story character that kids can really interact with. Buzz Lightyear comes to life right in your home with Toy Story 3 U-Command Buzz. U-Command Buzz is over 13 inches tall and comes with a wireless remote control for instant commands and nearly 1,000 action sequences. Buzz moves forward, backward, or spins 360 degrees in either direction. Kids can activate his laser, make him talk, or program him to speak Spanish-just like in Toy Story 3! Buzz comes with more than 25 sayings in his original voice. Kids will love the authenticity in this toy and they'll love playing with their favorite space ranger even more.
Manufacturer:
Thinkway Toys
Brand:
Toy Story 3
Age Recommendation:
6 and up
MSRP:
$79.99
Intro Year:
2010...
Click here to read the rest of this article from TimetoPlayMag.com